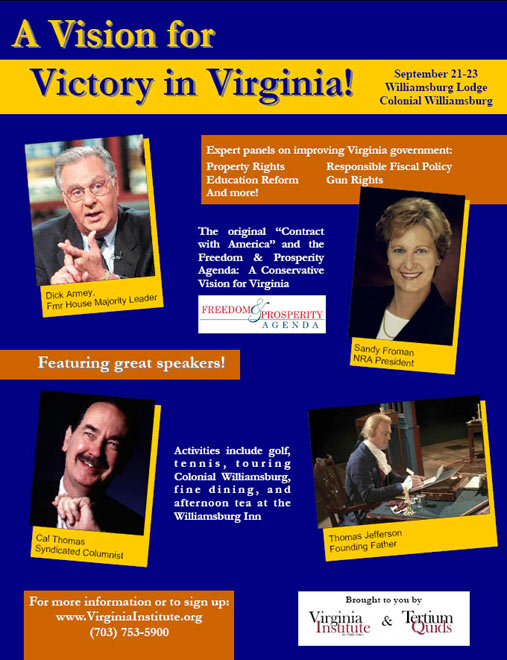 On September 21-23, the Virginia Institute for Public Policy and Tertium Quids co-hosted a conference titled A Vision for Victory for Virginia. The conference was held at the brand new Williamsburg Lodge in Colonial Williamsburg.
From the Book of Proverbs ("Where there is no vision, the people perish") to old Chinese proverbs ("If you don't know where you are going, any road will take you there"), it has long been understood that if one lacks direction or a clear goal, achieving anything of significance is unlikely.
A Vision for Victory for Virginia opened with a retrospective look at the Contract with America – what was intended, what was accomplished, where did we fall short, what did we learn. The balance of the conference was dedicated to the Freedom & Prosperity Agenda, an eleven-plank legislative program introduced by the Virginia Institute prior to the 2006 General Assembly session. Two of the eleven planks, including the elimination of Virginia's estate tax, were passed into law in 2006.
There were ample opportunities to enjoy the amenities in Williamsburg from discounted tickets to the colonial area, to a specially arranged concert at the historic Bruton Parish Church by internationally renowned harpsichordist, James Darling, followed by an afternoon tea at the Williamsburg Inn.
Attendees enjoyed the Colonial Williamsburg experience with a hint of fall in the air; met leaders who are making a difference at both the state and national levels; heard policy experts discuss the answers contained within the Freedom & Prosperity Agenda to the most pressing issues facing Virginia (How can we limit government? How do we control state spending? What taxes can be eliminated? How can private property be protected from government encroachment? How can education be improved by competition and the discipline of the market?)

A Vision for Victory for Virginia
Conference at the Williamsburg Lodge
in Colonial Williamsburg
Thursday, September 21, 2006 –
6:00 – 7:00
Reception
7:00 – 9:00
Dinner
Speaker: Sandy Froman, president of the National Rifle Association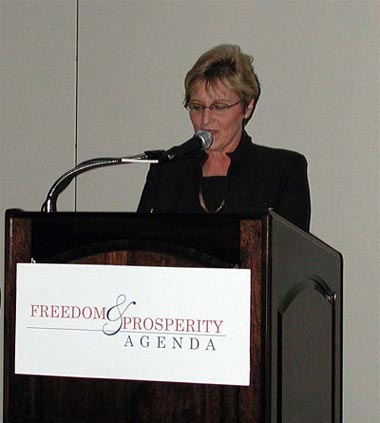 Sandy Froman
President
National Rifle Association
Friday, September 22, 2006 –
8:15 – 8:45
Continental breakfast
8:45 – 10:00
Panel discussing the original "Contract with America" and the political advantages of having an articulated vision.



Former U.S House Majority Leader Dick Armey
Chris Edwards, director of fiscal policy studies at the Cato Institute, editor of The Republican Revolution 10 Years Later: Smaller Government or Business as Usual?




Dick Armey
Former Majority Leader
U.S. Congress



10:00 – 10:45
The Freedom & Prosperity Agenda: A Conservative Vision for Virginia

Speaker: Becky Norton Dunlop, vice president for external relations at The Heritage Foundation

10:45 – 11:00
Break



A Founding-era Raleigh Tavern tradition - discussing liberty over a cold one.

11:00 – 12:00
Education Reform Panel



Neal McCluskey, policy analyst with the Center for Educational Freedom at the Cato Institute
Adam Schaeffer, NRI Fellow at the American Enterprise Institute
Senator Ken Cuccinelli



12:00 – 1:00
Property Rights Panel



Charles J. Cooper, attorney at law, Cooper & Kirk, Washington, DC
Joseph T. Waldo, attorney at law, Waldo & Lyle, Norfolk, VA
Delegate Robert B. Bell



1:00 – 6:00
Free time (Golf, tennis, touring Colonial Williamsburg)

Optional for spouses and others who wished to participate:

| | |
| --- | --- |
| 3:00 | James S. Darling, professor emeritus at the College of William & Mary and internationally recognized harpsichordist, performed a short concert at the Bruton Parish Church in Colonial Williamsburg. |

| | |
| --- | --- |
| 4:00 | Afternoon tea at the Williamsburg Inn |

6:30
Reception
7:30 – 9:30
Dinner
Speaker: Thomas Jefferson, internationally renowned Jefferson reenactor with Colonial Williamsburg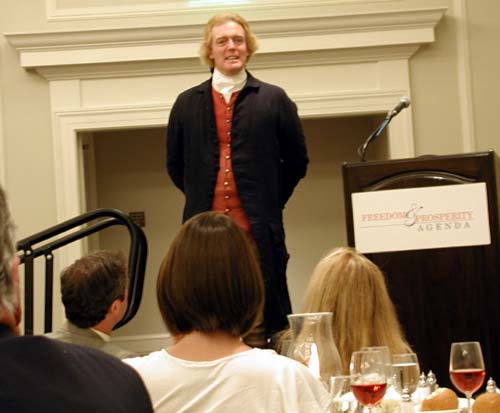 Thomas Jefferson
Saturday, September 23, 2006 –
8:15
Continental breakfast
9:00 – 10:00
Fiscal Policy Panel



Matt Kibbe, president and CEO of FreedomWorks
Delegate Scott Lingamfelter

10:00 – 10:30
Break
10:30 – 11:15
CEO Panel

CEOs from Virginia discussed the effect of the Virginia Institute's Freedom & Prosperity Agenda on economic growth and job creation in Virginia.

11:15 - 11:30
U.S. Senator George Allen
11:30 – 1:00
Lunch
Speaker: Cal Thomas, nationally syndicated columnist and Fox News panelist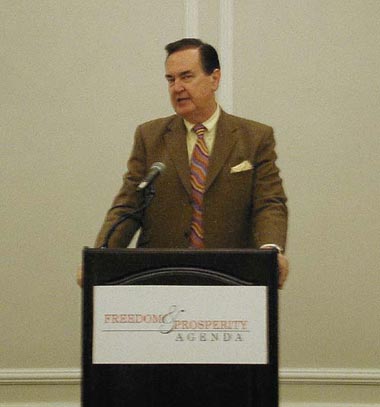 Cal Thomas
Nationally Syndicated Columnist
Fox News Panelist