BOARD OF DIRECTORS

John Taylor is president of Tertium Quids, a 501(c)4 issue advocacy organization that hosts Virginia's Tuesday Morning Group, a statewide coalition comprising more than 1,000 activists who represent more than 260 organizations. He also serves as president of the Virginia Institute for Public Policy, an independent, nonpartisan, education and research organization that develops and promotes public policy consistent with the Virginia tradition of individual liberty, dynamic entrepreneurial capitalism, private property, the rule of law, and constitutionally-limited government. John is also the producer of Freedom & Prosperity Radio, a syndicated talk radio program with a focus on politics and public policy. In 1975, he received a B.A. from Wofford College, and subsequently earned an M.B.A. from Georgia State University and a J.D. from the Woodrow Wilson College of Law. In 2008, John was elected into the Mont Pelerin Society, an international group founded in 1947 by Friedrich von Hayek "to facilitate an exchange of ideas between like-minded scholars in the hopes of strengthening the principles and practice of a free society …." He is also a member of the Federalist Society, an organization "founded on the principles that the state exists to preserve freedom, that the separation of governmental powers is central to our Constitution, and that it is emphatically the province and duty of the judiciary to say what the law is, not what it should be." Since 1997, John has been a member of the Philadelphia Society, an organization "dedicated to the goal of deepening the intellectual foundations of a free and ordered society and to broadening the general understanding of its basic principles among the public at large." John has been the recipient of the 2012 John Marshall Award for "outstanding citizen leadership in the advancement of property rights," given by the Virginia Property Rights Coalition; the Hero of the Taxpayer Award, an annual recognition given by Americans for Tax Reform in Washington, D.C.; and the Eagle Award, an annual award given for pro-family, grassroots leadership by the Eagle Forum of St. Louis, Missouri. Campaigns & Elections magazine has named John one of the most influential political players in Virginia.
Jeremy P. Hopkins is of counsel with the law firm of Waldo & Lyle, P.C. The firm's practice is devoted exclusively to representing property owners in eminent domain and property rights matters. He is a graduate of the College of William and Mary Law School and has been admitted to practice law in Virginia and the District of Columbia. In addition to representing property owners in court, Jeremy has worked to protect and advance private property rights through public and legislative awareness. He has also worked closely with legislators, lobbyists, and various organizations to obtain the legislative changes necessary to protect the rights of property owners. Jeremy has participated in numerous study groups and commissions created by the Virginia General Assembly to examine Virginia's laws regarding eminent domain and private property rights. He frequently speaks at seminars designed to educate and inform community groups and citizens about property owners' constitutional rights and protections. Jeremy has been selected as a faculty member to teach at the American Law Institute and American Bar Association's twenty-third annual Eminent Domain and Land Valuation Litigation Seminar.
David Rensin has served as a consultant to various branches of the U.S. government, where he specialized in designing and developing software applications and information systems for carrying sensitive data securely over both wired and wireless networks. Among other projects, his work included developing a software application for the U.S. Army to allow tactical troop deployment data to be transmitted securely in hostile environments using handheld devices. For his work, Dave received a civilian commendation from the U.S. Army. In 1997, he founded the Mobile Computing Group at Noblestar Systems, a systems integration firm. Among his accomplishments, Dave and his team developed wireless in-store merchandizing systems for Levi Strauss and Sony Computer Entertainment America, an inventory tracking and control system for W. W. Grainger and a remote patient tracking system for Outreach Health Care. In 1997, he was featured on the cover of Solutions Integrator magazine in recognition of his industry contributions. While at Noblestar, Dave invented Scout™, a middleware platform that accesses and synchronizes data between handheld devices and corporate back-end systems. Responding to customer demand, and with Noblestar's support, he spun off the platform into a new company, Riverbed Technologies, which he cofounded and for which he served as Chief Technology Officer. Scout™ was licensed to nearly every major manufacturer of handheld devices in the world. In 2000, Dave was named a Mobile Innovator of the Year by Mobile Computing magazine for his work in inventing Scout™, and in the same year Riverbed Technologies was sold to Aether Systems for over $1 billion. Dave served as chief scientist for Aether Systems, where he provided strategic technical vision for the integrated product line. He then joined Omnisky as chief product officer, where he designed and built the company's products to provide wireless e-mail and Internet services to users of handheld devices. The Omnisky service offering received an Editor's Choice award from PC Magazine. In 1996, Dave coauthored SQL Server 6.5 Secrets, a best-selling book on enterprise distributed data systems. In 1997, he coauthored ASP: Active Server Pages, a book designed especially for professional Internet developers, and followed that with the updated SQL Server 7 Secrets in 1999. Dave has been a contributing author for Pen Computing Magazine and has written articles for EE Times, MSDN Magazine, and other national publications about evolving technologies in the mobile industry. He has been profiled in various industry publications, including eWeek, InfoWeek, InfoWorld, and Pen Computing Magazine.
Lynn Taylor is secretary/treasurer of Tertium Quids. She also serves as secretary/treasurer of the Virginia Institute for Public Policy. Prior to her current positions, Lynn was managing director of the Charles G. Koch and the Claude R. Lambe Charitable Foundations in Washington, D.C. Well-experienced in the management and funding of nonprofit organizations, she previously served on the boards of the Heartland Institute for Public Policy, Chicago; the National Foundation for Teaching Entrepreneurship, New York; and the Young Entrepreneurs of Washington, D.C. In 1976, Lynn received a B.A. (mathematics) from Agnes Scott College and subsequently earned an M.B.A. (finance) from Georgia State University and a J.D. (cum laude) from the Woodrow Wilson College of Law. A member of the Philadelphia Society, she is also a member of the Federalist Society.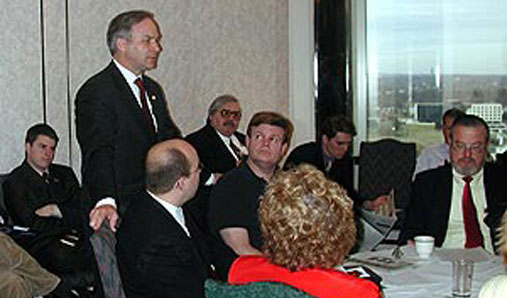 Congressman J. Randy Forbes, a member of the U. S. House of Representatives Judiciary Committee, addressed immigration issues and judicial appointments with the Tuesday Morning Group.