Tertium Quids is an independent, nonpartisan, issue-advocacy organization that promotes legislative efforts to expand individual opportunity and free markets, while reducing the size, role, and cost of government in Virginia.
.
Through grassroots education and mobilization, as well as direct contact with local and state officeholders, Tertium Quids redefines the parameters of the public debate in favor of individual liberty, dynamic entrepreneurial capitalism, private property, the rule of law, and constitutionally-limited government.
.
Tertium Quids, Latin for "third way" or "third entity," is composed of activists across Virginia whose loyalty and commitment are to the founding principles of our republic, rather than to party politics.

This week's
Freedom & Prosperity Radio program
Allan H. Meltzer, Ph.D. is a university professor of political economy at Carnegie Mellon University, distinguished visiting fellow at the Hoover Institution, and a former president of the Mont Pelerin Society.
Professor Meltzer discusses his recent commentary, "The GOP's Tea Party Problem." Is it possible the Founders had a good idea regarding federalism? What is hamstringing the American economy?
Allan Meltzer, Ph.D., pt. 1 Allan Meltzer, Ph.D., pt. 2
Victor Davis Hanson, Ph.D. is the Martin and Illie Anderson Senior Fellow at the Hoover Institution, and the Wayne and Marcia Buske Distinguished Visiting Fellow in History at Hillsdale College.
Professor Hanson addresses his recent article, "Tooth-Gnashing in the Republican Establishment," as well as his recent podcast, "Understanding 2016." What are the political and ideological fault lines in the Republican Party? Can they be overcome before 2016's presidential election?
Victor Davis Hanson, Ph.D., pt. 1 Victor Davis Hanson, Ph.D., pt, 2

.
.
.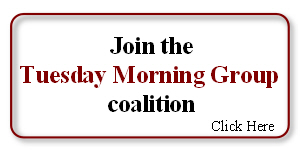 .
.
.

.
.
TAKE THE PLEDGE...
.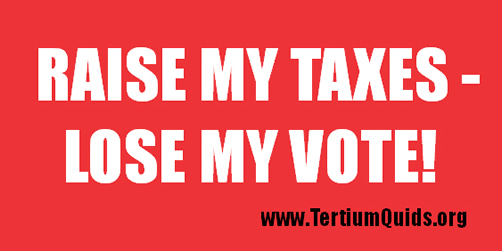 .
...GET YOUR BUMPER STICKER
.
Tertium Quids announces a new grassroots campaign to return the citizens of Virginia to their rightful role as Sovereigns (remember We the People?), and to return our government to the Founders' vision of a constitutionally-limited Republic.
In the past, there have been a number of attempts to gain a politician's pledge not to raise taxes. These attempts have had limited success for one very important reason: politicians lie. Politicians are more than happy to take a pledge, or endorse your issue, without any expectation whatsoever of being bound by it.
Tertium Quids' RAISE MY TAXES, LOSE MY VOTE campaign is different in that we are not asking politicians to do anything. Our pledge is for the people…
.
* people who understand that it is hard work, not entitlements, that brings success;

* people who understand that it is savings, not spending, that ensures prosperity;

* people who understand that it is the entrepreneur, not the bureaucrat, who creates jobs and economic growth;

* people who understand that it is morally reprehensible to enjoy current benefits while passing the costs of those benefits on to our children and grandchildren;

* people who understand that we can no longer tolerate intellectually bankrupt politicians whose one-step thinking process always leads them to the conclusion that more government spending and higher taxes are the only answers to every problem;

* people who understand that a nation's wealth is built over many generations, but can be squandered in a decade.
If you are fed up, if you are willing to fight for future generations instead of plundering them, and if you are made of the same steel as your ancestors who fought for Virginia and the nation, then we invite you to sign the pledge that you will not vote for any politician who votes, or who promises to vote, to raise taxes. And to constantly remind politicians of your pledge and where you stand on taxes, we will send you a free RAISE MY TAXES, LOSE MY VOTE bumper sticker.
You cannot be economically enslaved and politically free.
.
Act now as if your liberty depended upon it!
.

.
.
.
.

.

.
A Citizens' Agenda for Better State Government
.
.
A coalition of Virginia citizen groups and legislators came together to introduce the Freedom & Prosperity Agenda — a citizens' agenda for better state government that protects the time, labor, income, and property of all Virginians. These 11 planks were proposed as legislation in a multi-year effort to shift power from the government back to its rightful owners — the people. As you can see, some planks have already been passed, while others require increased grassroots support of people across Virginia — you, your family, and your friends and neighbors – to ensure our state legislators pass them into law.
.
1. Eliminate Virginia's death tax PASSED
.
2. Pass a Taxpayers Bill of Rights to limit excessive state spending
.
3. Stop unnecessary eminent domain confiscations of private property PASSED
STATUTE 2007
CONSTITUTIONAL AMENDMENT 2012
.
4. Allow parents to choose where their children attend school
.
5. Create freedom and fiscal accountability for Virginia's public colleges and universities
.
6. Eliminate the prepayment of the sales and use tax
.
7. Eliminate the War of 1812 tax (BPOL tax)
.
8. Require expiration dates for all new taxes and all tax increases
PASSED THE HOUSE
.
9. Rein in skyrocketing real estate taxes by basing them on the acquisition value of property
.
10. Eliminate the car tax
.
11. Make more money available for transportation projects by protecting Transportation Trust Fund money from being used for non-transportation purposes PASSED THE HOUSE
.
.
Click here for more details on the Freedom & Prosperity Agenda

Endorse the Agenda

Sign up for email updates

.
.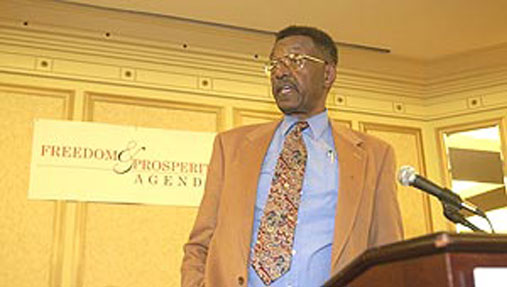 At a conference at the Omni Richmond Hotel,
Professor Walter Williams discusses the economic implications
of the Freedom & Prosperity Agenda and the need to
control the growth of government.
.
.

.
.